Top up cards in bulk
Topping up multiple cards at once is an easy way to ensure they have enough funds without setting them to auto-top up.
To top up multiple cards at once:
From the Yordex interface go to "Cards" and select "Import"

Then click "Sample card top up CSV file." to download a template containing your cards and their current balances.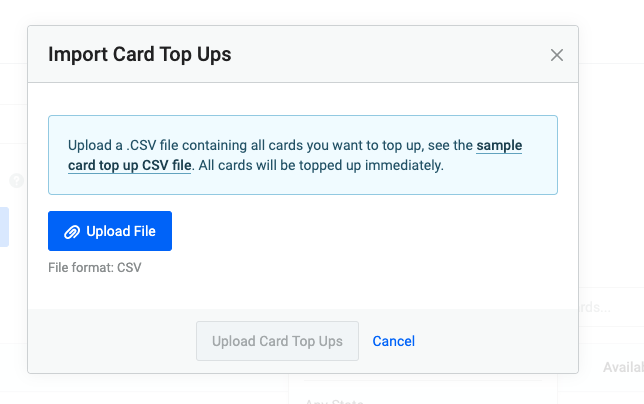 In the downloaded file update the topUp column to be the amount you would like to top the card up by and save it as a CSV file.
If you would like to remove funds from a card simply put a negative number in the topUp column.

To import the file to Yordex select "Upload File" and choose the updated CSV file.
When the file has been uploaded select "Upload Card Top Ups" to top up the cards. You will receive a digest email if any top-ups failed.
Lastly, refresh the page to see the updated card balances.